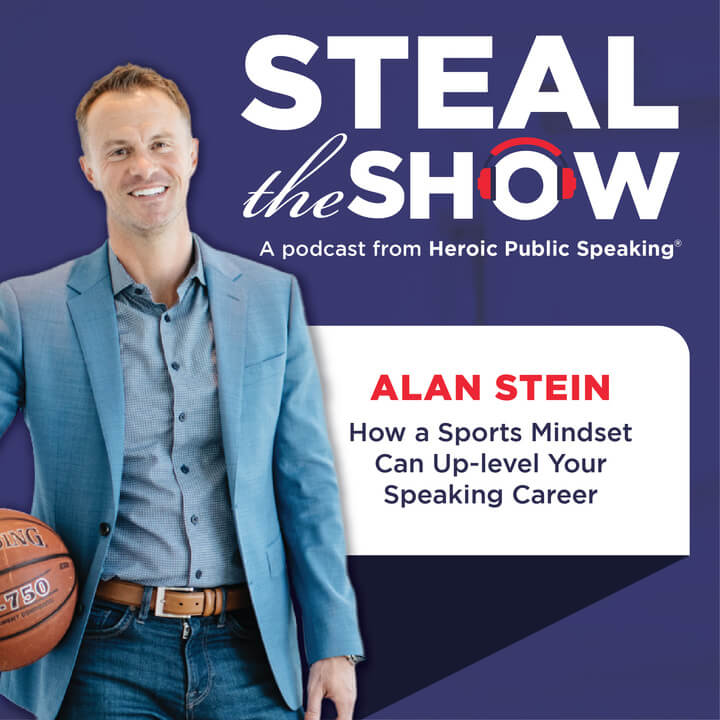 On today's episode of Steal the Show, we're talking about raising your speaking game using sports performance principles. 
Alan Stein, Jr. worked as a performance coach for some of the highest-performing athletes on the planet, including NBA superstar Kevin Durant. He shows us how the lessons he taught top athletes can bring out the best in any performance.
How You Can Steal the Show
How Alan found his philosophy for a successful life and career on a basketball court. 

The time-tested secret to making performance easier. 

The career-crushing mindset every speaker must avoid to perform their best. 

Why even "the best" in the game needs a good coach. 

The filter you need to set so you can achieve your dreams. 

How he made the leap from sports performance coaching to speaking by saying "yes." 

How a haircut helped him align himself with the brand he was building.

What all speakers need to give themselves once they step off stage.
Learn more about Alan here.
You can purchase Alan's book Raise Your Game: High-Performance Secrets from the Best of the Best here.
If you liked this episode you may also enjoy:
Episode 124: Giovanni Marsico on Building Your Tribe
Episode 125: Simon T. Bailey on Quitting Your Full-Time Job to Be a Pro Speaker
Episode 119: Jay Baer and Daniel Lemin on How to Get People to Talk About You