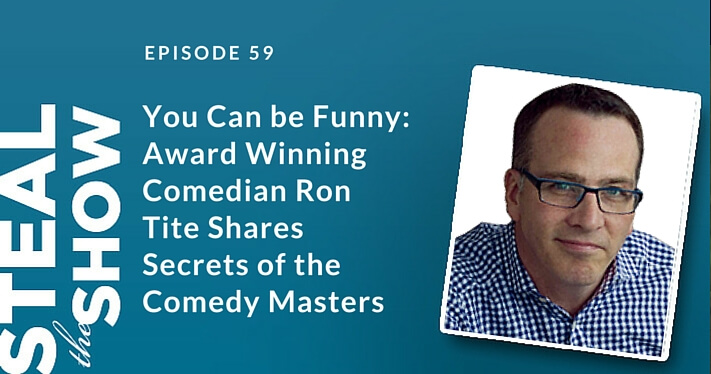 Listen Now
Podcast: Play in new window | Download
Want to know what makes someone funny, and how you can be funnier? Listen in as Award Winning Comedian Ron Tite shares secrets of the comedy masters on humor and public speaking.
Ron Tite has been an award winning advertising writer and creative director for some of the world's most respected brands, including Air France, Evian, Fidelity, Hershey, Johnson & Johnson, Kraft, Intel, Microsoft, Volvo, and many others. He is founder and CEO of The Tite Group, executive producer and host of the Canadian award-winning show Monkey Toast. Ron is also a featured marketing expert on the new Mark Burnett produced business reality show, Dream Funded.
Ron's upcoming book, "Everyone's An Artist (Or At Least They Should Be)," will be published by HarperCollins in the spring of 2016.
Ron will be leading a special session on "How Everyone's a Comedian (or at least they should be)" at the upcoming Heroic Public Speaking Live 2016.
In this episode, we discussed:
How to balance preparation and improvisation when you try to bring humor to some performance. (4:18)
How famous comedians find their "funny." (8:02)
How to use "contrast" and humor to keep your audience engaged. (10:34)
Humor techniques of famous comedians, Jerry Seinfeld, Robin Williams, Eddie Murphy and Dennis Miller. (13:19)
How rehearsals can actually add authenticity to your speech. (16:43)
Why humor matters in a performance, even if you plan to deliver serious content. (21:45)
How to use appropriate humor for your audience. (26:00)
The importance of timing when delivering punchlines in a speech. (36:09)
How to find the balance between being funny and being relevant in your speech. (51:25)
Find out more about Ron Tite and the Content Marketing Agency.
You can also connect with Ron on Twitter, Facebook and LinkedIn.