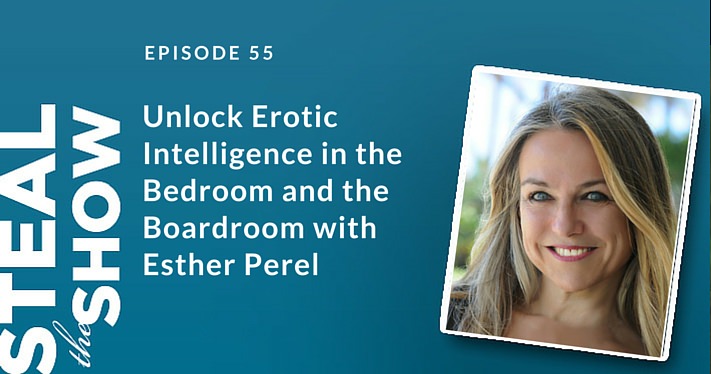 Want to learn how to unlock erotic intelligence in the bedroom and the boardroom? Listen in as I interview Esther Perel, who is an author and a couples therapist. She has been recognized as one of the world's most original and insightful thinkers about couples, sexuality, and the peculiar paradoxes found in modern marriage.
Esther Perel wrote her first groundbreaking book called, "Mating in Captivity," which introduced Americans to the inherent conflict between emotionally safe but boring intimacy, and thrilling but potentially risky eroticism, love, and lust.  In 2017, she released her new book, "The State of Affairs: Cheating in the Age of Transparency."
The New York Times, in a cover story, named Esther the most important game-changer on sexuality and relationships since doctor Ruth, and her two critically-acclaimed TED talks have reached almost 10 million viewers. And she's been a guest on many radio and TV programs, including Oprah, the Today Show, and the Colbert Report.
Find out more about Esther Perel and her online relationship workshops and courses.
How You Can Steal the Show
The cause of performance anxiety in the bedroom.
Why people have little understanding about their roles in intimacy and how to learn about it.
Attraction + obstacle = excitement – an important equation for relationships in the bedroom and in the boardroom.
How you can keep the erotic equation alive in a relationship when you already know you are committed to each other for life.
How to go after what you want with more assertiveness.
How the fundamental improvisation technique of "Yes, and" can be used in the boardroom and bedroom to help move your life forward.
How do you know when the fit is not right, at work or in a relationship, and it's time to leave.
Do you tend to care so much and take too much responsibility?
How to end a business and personal relationship.
The paradox of life – security and adventure, and how it applies to your speaking.
What you can do today in your relationship to create something actionable.
Connect with Esther Perel on YouTube, Facebook, Twitter and Instagram.
Esther's TED talks:
The secret to desire in a long-term relationship
Rethinking infidelity … a talk for anyone who has ever loved