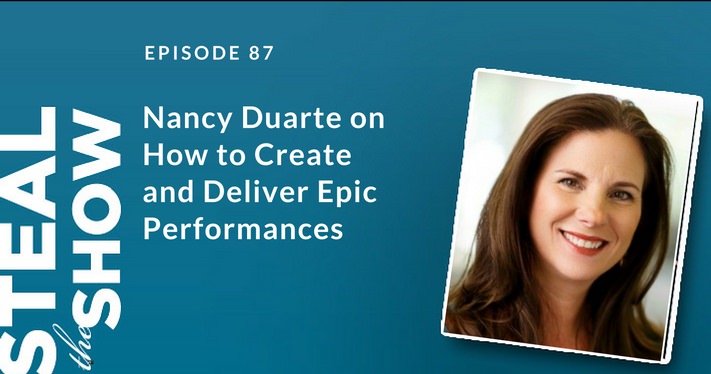 Listen Now
Podcast: Play in new window | Download
Dream.
Leap.
Fight.
Climb.
Arrive.
This pulse of words beats through Nancy Duarte's latest book, Illuminate: Ignite Change Through Speeches, Stories, Ceremonies, And Symbols. Co-written with Patty Sanchez, Illuminate inspires audiences all over the world by showcasing how great leaders create effective change.
Want to take your presentation to the next level? Listen in as Nancy Duarte focuses on the speech portions of her model, and she shares how to create and deliver epic performances.
Nancy Duarte is a communication expert. Her firm, Duarte, is the global leader behind some of the most influential visual messages in business and culture. In addition to Illuminate, Nancy is the author of Slide:ology and Resonate.
In this episode we discussed how to:
Understand and utilize the Three Act Structure: a winning presentation model for leaders and speakers. (2:00)
Turn a performance from good to epic with rehearsals. (26:46)
Use visual aids in your presentation. (41:33)
Find out more about Nancy Duarte and her upcoming events. Download Nancy's Torchbearer Toolkit, a free presentation diagram and workshop, and a free copy of Nancy's eBook: Slidedocs.