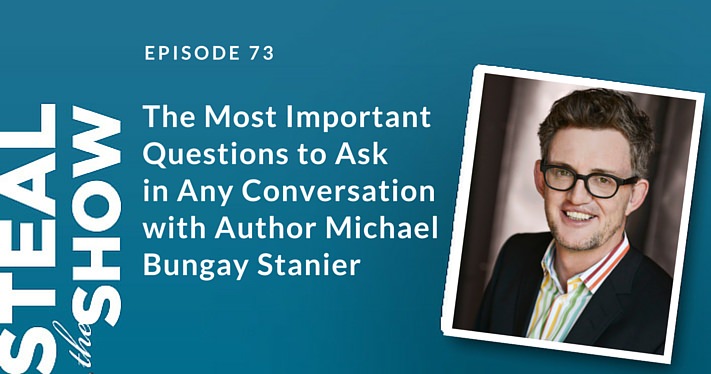 Listen Now
Podcast: Play in new window | Download
Listen in as author Michael Bungay Stanier and I discuss the most important questions to ask in any conversation.
Michael Bungay Stanier is the Founder and Senior Partner of Box of Crayons. Their focus is to help time-crunched managers coach their teams in 10 minutes or less.
Michael is also the author of a number of books, including: "The Coaching Habit" and "Do More Great Work." However, the one he's most proud of is "End Malaria," a collection of articles about great work from thought leaders, which raised about $400,000 for "Malaria No More" and reached #2 on Amazon.com.
In this episode we discussed:
How to empower your audience by giving them control. (8:10)
Why sometimes we need to hold off on advice-giving. (12:02)
The importance of giving people the opportunity ask questions. (15:17)
The balance between giving advice and asking thought-provoking questions. (18:43)
Michael Bungay Stanier's two useful phrases when offering advice. (19:47)
The two questions you can ask your audience, to help them reflect on the value of your teaching. (36:00)
How 10-minute coaching conversations can benefit all involved. (41:35)
Why it's difficult to kick a bad habit, and a "new habit formula." (55:04)
Find our more about Michael Bungay Stanier and his organization Box of Crayons.