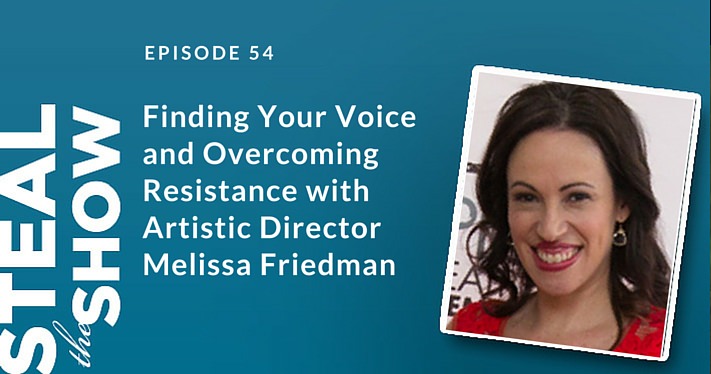 Listen Now
Podcast: Play in new window | Download
Want to know how someone young or old can change how they behave, interact, collaborate, and even transform their lives as a result of learning performance skills? Co-Founder and Artistic Director of Epic Theatre Ensemble, Melissa Friedman will show you how to find your voice in an inventive way.
As an actor, Melissa has performed in numerous Epic Off-Broadway productions including Hannah and Martin, Einstein's Gift, and A Hard Heart. As a Director, her credits include 13 Shakespeare remix productions for which, on behalf of Epic, she received the 2009 National Arts and Humanities Youth Program Award from First Lady Michelle Obama at the White House.
You can learn more about upcoming productions and events at Epic Theatre Ensemble.
How the theatre has the power for social change and transformation. (3:09,5:06)
What arts education teaches us that we maybe can't learn from other subjects (5:45)
The different tools that we have, as performers, that allow for possible change. (6:56)
The phrase "I have stage fright" and the process of overcoming it. (7:46)
Moments to display courage when you are fearful on the stage. (10:25)
How to handle the fear of your peers laughing at you or the fear from receiving immediate negative feedback from others. (12:18, 12:53)
The benefit of having a full commitment to your speech or performance. (13:35)
How stage fright and fear can stem from being too focused on yourself – Where should your focus be redirected. (14:47)
Why is authenticity important in a public speech. (18:02, 19:29, 20:45, 21:11)
How your speech changes and improves when you pursue objectives for others. (23:40)
The importance of having "control" over the room to the best of your ability during your speech. (27:11)
Understanding balance between rehearsal and improvisation. (36:15)
How much rehearsal is necessary so that you can be in the moment and be spontaneous and authentic. (39:39)
"Amateurs rehearse until they get it right, professionals rehearse until they can't get it wrong." (40:01)
Connect with Epic Theatre Ensemble on Facebook, Twitter, and Instagram.