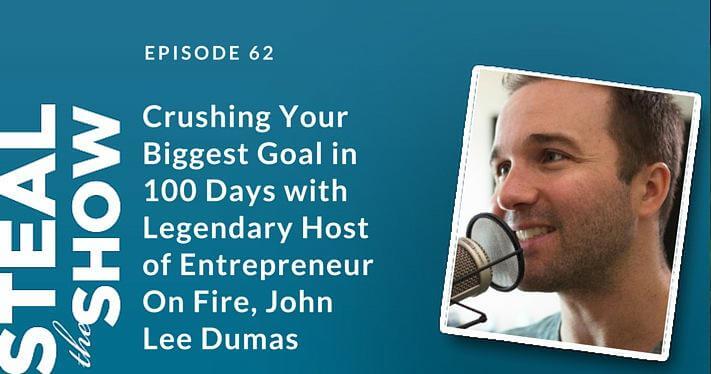 Listen Now
Podcast: Play in new window | Download
Want to crush your biggest goal in 100 days? Listen in as Legendary host of Entrepreneur On Fire, John Lee Dumas discusses how you can do just that.
John Lee Dumas is the founder and host of the Podcast "Entrepreneur on Fire." John has interviewed over 1200 entrepreneurs and his Podcast generates over one million monthly listeners.
John's latest project is The Freedom Journal. It is designed to guide you in setting and accomplishing your number one goal in  100 days.
In this episode we discussed:
The magic potion for entrepreneurial success. (1:02)
Why people have trouble achieving their goals. (2:13)
5 important attributes of a SMART goal. (2:51)
Identifying the one big domino in your life to start your goal. (6:31)
How John accomplished his goal in 100 days. (7:22)
The benefit of having accountability partners. (9:27)
Resources provided from The Freedom Journal that can help you reach your goal. (12:38)
Traditional publishing vs self-publishing. (21:13)
What if your fear is greater than your desire. (22:39)
You can check out John at Entrepreneur on Fire, and The Freedom Journal.