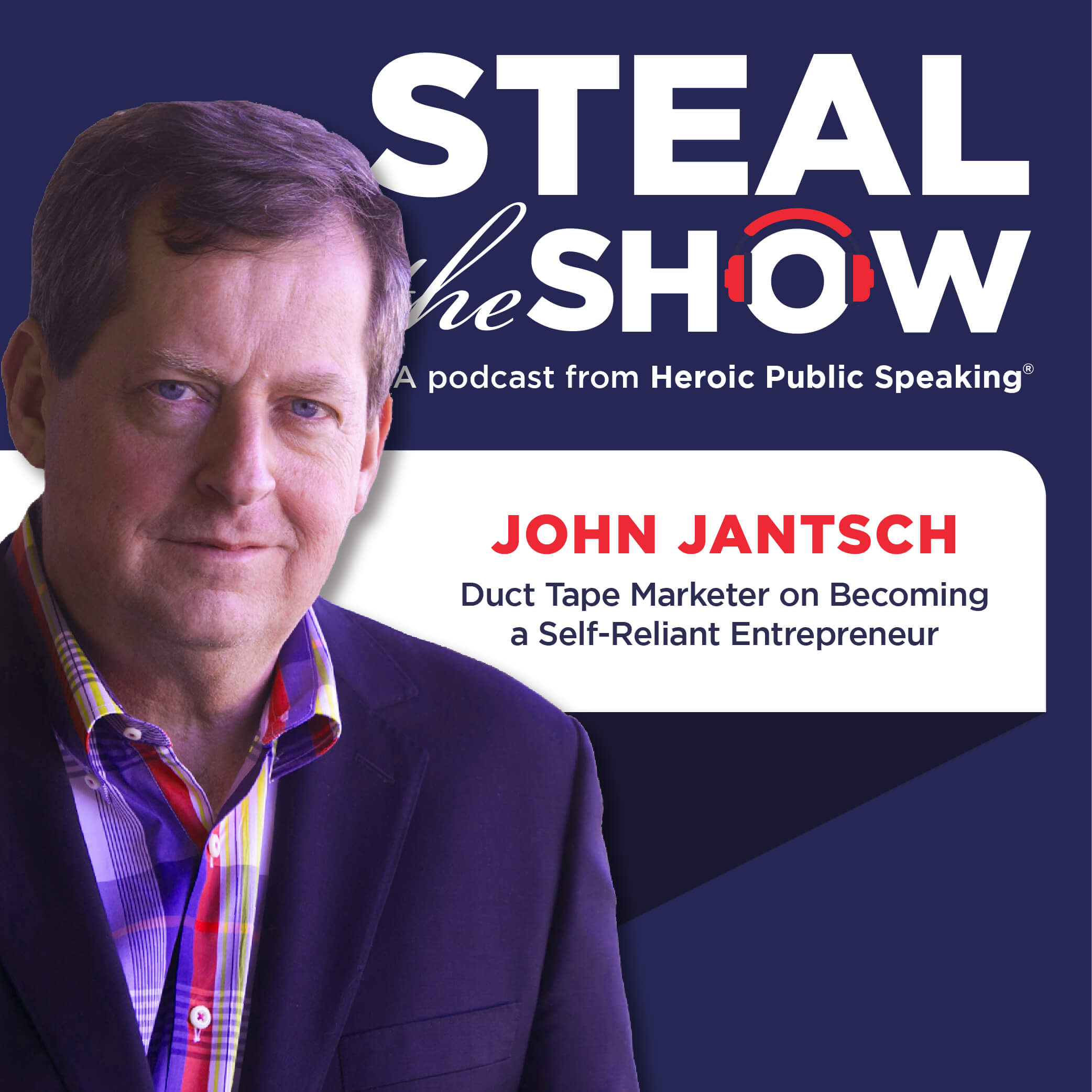 Did you know that 19th century thinkers hold the secrets for today's successful entrepreneurs? We're talking about the practices and philosophies that help entrepreneurs become self-reliant.
John Jantsch is a marketing consultant, speaker, and author of Duct Tape Marketing, The Referral Engine, Duct Tape Selling, The Commitment Engine, and SEO for Growth. His newest work, The Self-Reliant Entrepreneur: 366 Daily Meditations to Feed Your Soul and Grow Your Business challenges entrepreneurs to be fiercely self-reliant while chasing their own version of success. He is a podcasting pioneer who has interviewed thousands of guests and appeared as a guest hundreds of times.
Stay tuned after this podcast for our latest Alumni Highlight. In this episode, we'll hear from an HPS alum who started a business and a TV network after taking the world by storm with a new stage name.

How You Can Steal the Show
Discover why John Jantsch took a departure from writing about marketing to creating a mindset book with a dollop of spirituality.
Identify the four seasons of an idea and what you need to know to succeed in each one.
Uncover the one thing that entrepreneurs who succeed possess.
Learn the definition of a Self-Reliant Entrepreneur and why it's not necessarily about doing everything alone.
Discover the skill every entrepreneur needs to find more joy every day.
Find out about the daily practices John uses to stay centered and how you can implement them in your life.
Uncover the 19th and early 20th century quotes from famous thinkers that apply to today's entrepreneurs.
Identify the secret to effective marketing that few others are doing.
Discover where you can get breakthrough ideas in a crowded speaking industry (and it's not in the speaking industry).
Flip conventional wisdom about time spent at your desk on its head for a healthier mindset.
Learn the age-old wisdom that will guide you through any transition.
Find out when winners actually do quit and why it's okay nowadays to have experiences instead of careers.
Uncover what you should "Duct Tape or Ditch."
Happy Happy Game Show" Kevin MacLeod (incompetech.com)
Licensed under Creative Commons: By Attribution 4.0 License
http://creativecommons.org/licenses/by/4.0/