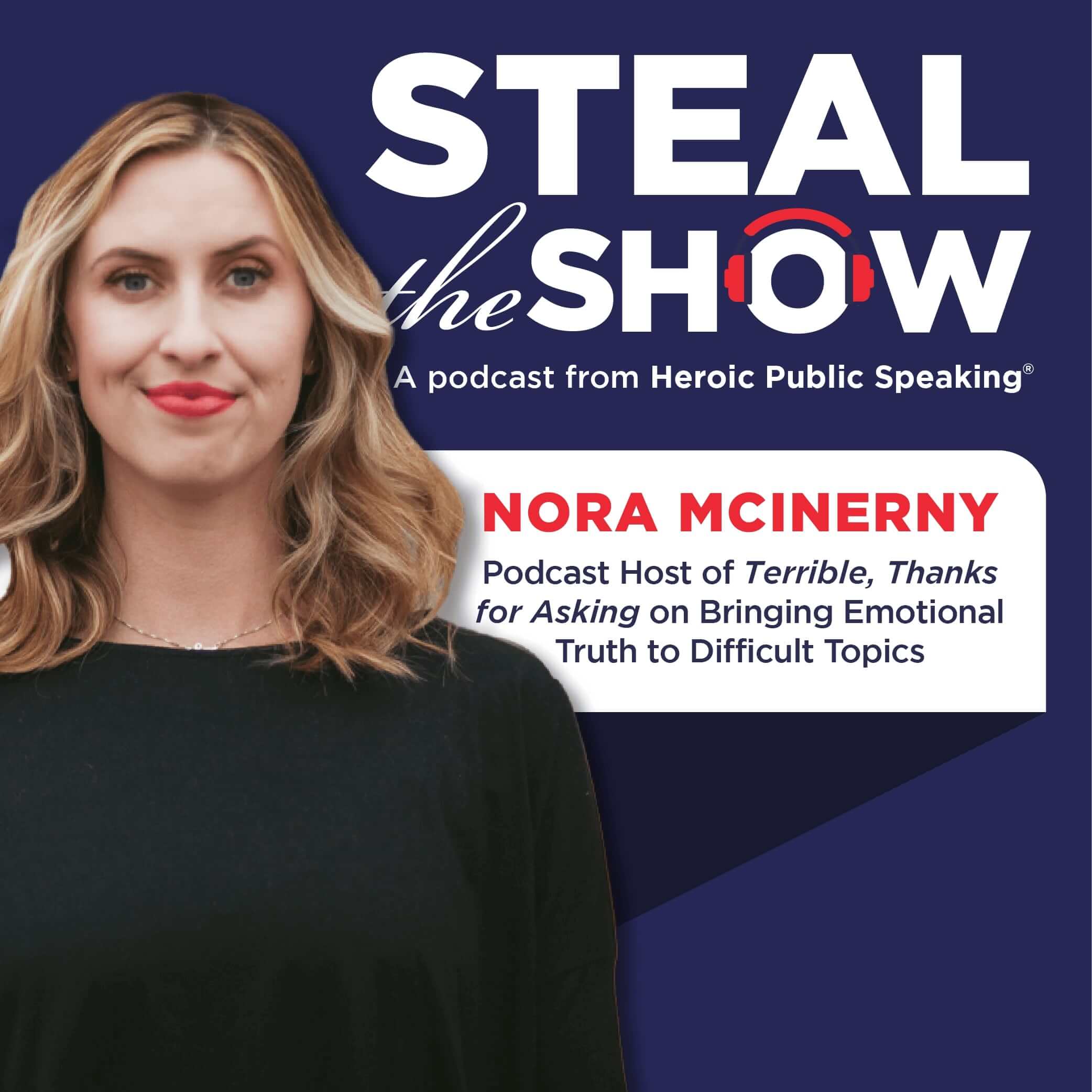 On today's episode of Steal the Show, we're talking about how to share emotional topics on stage so that you and the audience both feel safe.
Nora McInerny is the best-selling author of the memoirs, It's Okay to Laugh (Crying is Cool Too) and No Happy Endings, as well as The Hot Young Widows Club. She hosts the award-winning podcast Terrible, Thanks for Asking, and presented on the TED mainstage. The founder of the non-profit Still Kickin, Nora contributes to publications such as Time, Slate, and Vox. Nora is a master storyteller known for her dedication to bringing heart and levity to the difficult and uncomfortable conversations most of us try to avoid.
How You Can Steal the Show
Discover the value (and potential traps) of sharing on stage deep personal experiences while you're still processing them.
Determine if an audience is "worthy" of your vulnerability.
Identify the signs that you may not be ready to share your emotionally difficult story in a keynote speech.
Uncover how to single out the parts of the story you can tell without emotionally "bleeding all over the stage."
Tell a story by accessing emotional truth so you perform with honesty and authenticity.
Learn the truth behind post-traumatic growth and why it's essential to your speech.
Process emotions so you don't rush into the "Phoenix Phase" of your story too soon.
Uncover the difference between writing about difficult topics for the page vs. the stage.
Discover Nora's secrets for content development, customization, and rehearsal.
Recognize how challenging it is for people to be adjacent to hardship and learn what to do if they say things that hurt you, even if they think they're helping.
Learn how Nora covers tough topics in an entertaining way on her podcast, Terrible, Thanks for Asking.