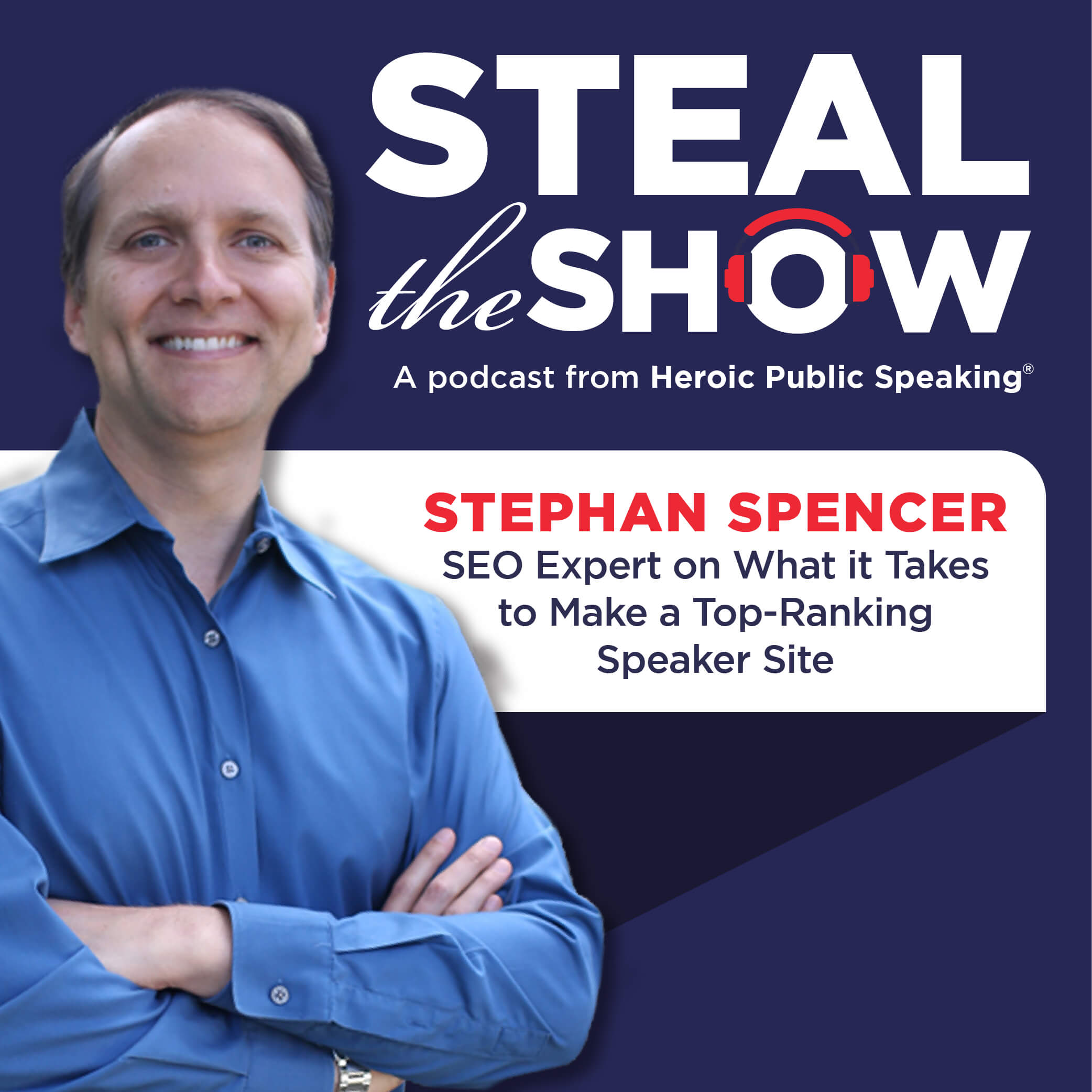 On today's episode of Steal the Show, we're talking about using search engine optimization (SEO) to drive conference organizers and meeting planners to your speaker website.
Stephan Spencer is an SEO expert and bestselling author of three books: The Art of SEO, Social eCommerce, and Google Power Search. He has optimized the websites of some of the biggest brands in the world, including Chanel, Sony, Volvo, and Zappos. He founded the marketing agency Netconcepts, which was acquired in 2010 and now remains a part of a multi-billion dollar ad agency conglomerate. You can listen to Stephan on his two podcasts: Get Yourself Optimized and Marketing Speak.
Special Bonus for Steal the Show Listeners:
Stephan put together a cornucopia of SEO gifts for you, including an SEO hiring blueprint, SEO myths, and chapter 7 of his gargantuan book, The Art of SEO.
How You Can Steal the Show
Distinguish between organic and paid search engine optimization and what each one means for growing your speaker site's visibility.
Discover the value of quality inbound links.
Scrub the dirty little secret about meta keywords.
Unpack what Google will reward you for right now.
Identify the three rules for determining effective keywords in SEO.
Learn what "pogo sticking" and "dwell time" are, and why they matter for your website's Google ranking.
Discover what you need to know about how your target audience searches online.
Find out how to use SEO to pre-empt the competition.
Implement the philosophy "go where the fish are" when you're looking to get people to click through to your site.
Consider the effects of the "no follow" option on your inbound links.
Find out who the "Linkerati" is (and why you should target it).
Understand why SEO matters when it comes to a referral's first impressions.
Discover the best place to post your TEDx talk on your website.
Find out the number one metric for the number two search engine.
Alumni Highlights
Discover how professional speaker Scott Wintrip receives his coveted high-profile keynote gigs.