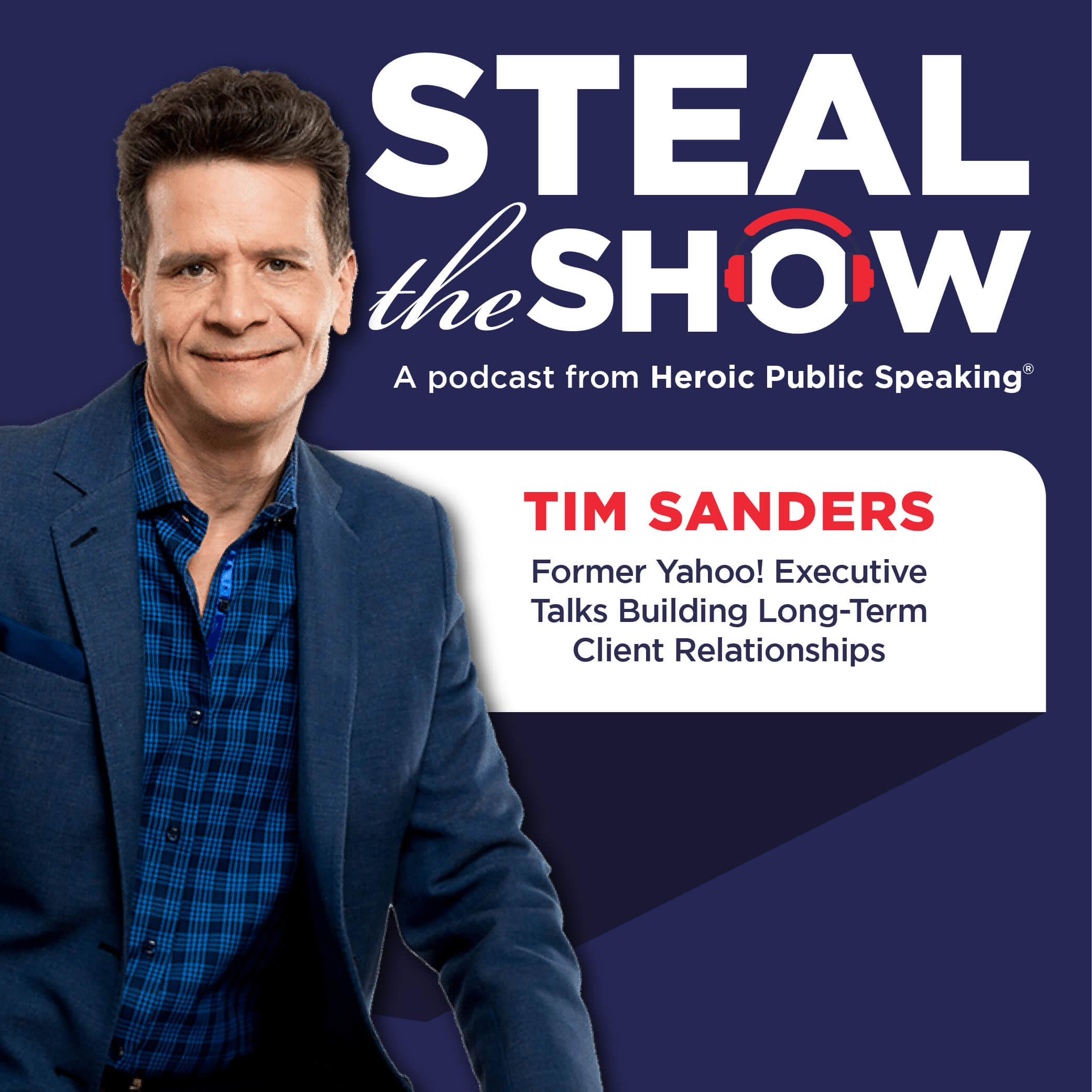 On today's episode of Steal the Show, we're uncovering why some speakers' careers plateau and how to fix it or prevent it altogether.
Tim Sanders—former Yahoo! Chief Solutions Officer, bestselling author, and top-rated leadership keynote speaker—shares his best practices for switching from one-off speaking gigs to cultivating a few accounts that hire you again and again.
How You Can

Steal the Show
Turn your public speaking career from feeling like a series of one-night stands to a long-lasting profession.

Learn how an account-based approach brings you repeat business.

The 2 reasons why you should say "no" to work that's outside your throughline.

Stamp your digital footprint with

this

instead of

that

.

Discover how to deliver your message to multi-faceted audience members with varying needs without confusing anyone.

Evolve from storytelling to moving audiences to action.

Uncover the different roles that "butts in seats" and "takeaway" speakers must take to make an event successful.

Note the 3 things you should supply to your audience after your speech ends to add value and encourage behavioral change.

Why it's important to develop humorous bits that don't "punch down."

The 3 must-read books for learning to create memorable experiences on stage.
Learn more about Tim and follow him on social media @sanderssays.
Tim's Talked About Resources:
Find Tim's post-event write up here.
Dive deeper into Tim's 3 must-read books.
If you enjoyed this show, you may also want to hear:
Episode 120: Alison Levine on why it's your message, not your experience, that matters most on stage.
Episode 110: Andrew Davis on obsessively tracking your career, how to create the speech people talk about, and why you can charge more than you think with the FEE model.
Episode 104: Jordan Harbinger on starting over, building a business from scratch, and what bees can teach us about performance.