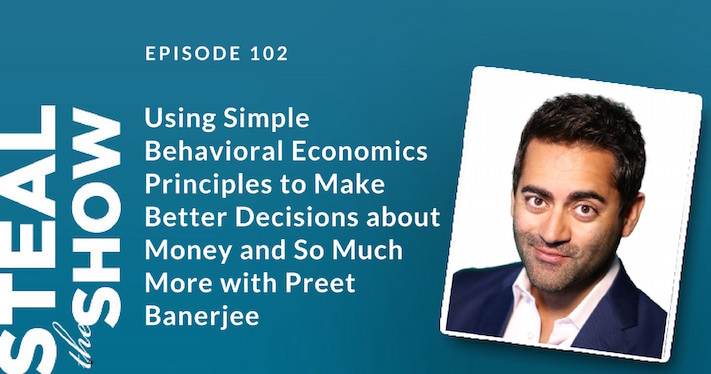 Listen Now
Podcast: Play in new window | Download
Do you find that conversations about money are difficult for you? Sometimes the tendency is to avoid the financial aspects that we don't understand, or maybe aren't going so well and that we find potentially frustrating. Today's guest, Preet Banerjee, is here to talk about money, and he's going to get to the bottom of some common issues relating to our relationship with money.
Press Banerjee is the host of the show Million Dollar Neighborhood. Preet is a personal finance expert and winner of the reality TV show, The Ultimate W Expert Challenge. He writes a personal finance column for The Globe and Mail, and his blog Where Does All My Money Go? was voted Canada's #1 investment blog in 2010. Preet's podcast – Mostly Money, Mostly Canadian – is now ranked as one of the most popular financial podcasts on iTunes.
In this episode, learn how:
Biases affect the way we deal with money, even the financial services industry has figured out how to exploit our biases. (8:04)
Financial literacy is an important indicator of how you handle your money (and how to improve yours). (13:11)
Emotions are a driving force behind how we make decisions with our money. (18:23)
Choosing the right financial advisor is so important, while understanding what to look for and who to trust. (31:45)
Budgeting isn't normally a fun activity…but Preet has tips on making it an efficient and productive process. (44:40)
The "gamblers fallacy" relates to personal finance. (51:04)
Learn more about Preet Banerjee here.